News
I Can Do Bad All by Myself: A Star-Studded Film by Tyler Perry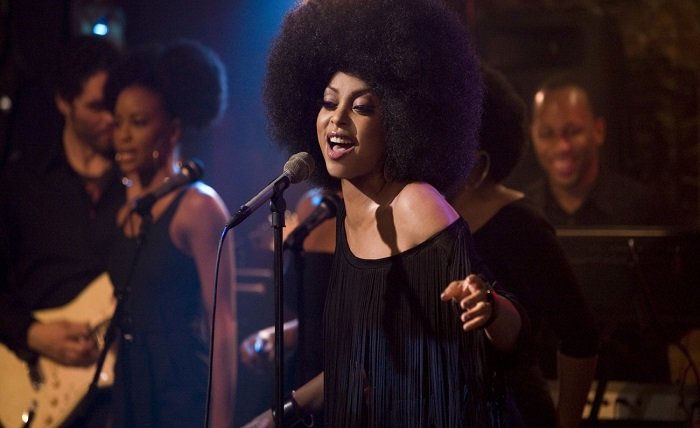 If you are looking for a movie that combines comedy, drama, romance, and music, you might want to check out I Can Do Bad All by Myself, a 2009 film written, directed, and produced by Tyler Perry. The film features an ensemble cast of talented actors and singers, who bring to life the story of a troubled woman who learns to love herself and others with the help of her family and a handsome stranger. In this blog post, we will introduce you to the main characters and actors of I Can Do Bad All by Myself, and tell you why this film is worth watching.
April: The Selfish Singer
The protagonist of the film is April, played by Taraji P. Henson, an Oscar-nominated actress who is best known for her roles in Hustle & Flow, The Curious Case of Benjamin Button, Hidden Figures, and Empire. April is a self-centered, alcoholic singer who works at a nightclub called Club Indigo. She lives with her abusive boyfriend Randy, who is married with children. She has no interest in taking care of her three young nieces and nephews, who are left in her custody after their grandmother goes missing.
April is a complex character who undergoes a transformation throughout the film. She starts off as a bitter and cynical woman who pushes away anyone who tries to help her. She blames her problems on her past, which includes being molested by her stepfather and abandoned by her mother. She uses alcohol and sex as a way to cope with her pain and loneliness. However, as the film progresses, she begins to open up to the people around her, especially Sandino, a kind-hearted Colombian immigrant who works as a handyman in her house. She also develops a bond with her niece Jennifer, who shares her passion for singing. She eventually realizes that she can do better than Randy, and that she deserves to be happy and loved.
Henson delivers a powerful performance as April, showing both her vulnerability and strength. She also showcases her singing skills in several scenes, such as when she performs "Just Don't Wanna Know" with Marvin Winans at the church, or when she sings "I Can Do Bad All by Myself" at the club.
Sandino: The Gentleman
The love interest of April is Sandino, played by Adam Rodriguez, an actor who is famous for his roles in CSI: Miami, Magic Mike, Jane the Virgin, and Criminal Minds. Sandino is a Colombian immigrant who fled from his war-torn country after witnessing his family being killed. He arrives in Atlanta with nothing but his suitcase and his faith. He is sent by Pastor Brian to work as a handyman in April's house, where he also gets to stay in the basement.
Sandino is a contrast to April in many ways. He is optimistic, generous, respectful, and devout. He treats April and the children with kindness and patience, even when they are rude or hostile to him. He sees the good in everyone and tries to help them in any way he can. He also has a sense of humor and a charming smile that melts April's heart.
Rodriguez portrays Sandino as a lovable and noble character who wins over the audience with his charisma and sincerity. He also has a great chemistry with Henson, making their romance believable and sweet.
Jennifer: The Brave Girl
The eldest of the three children is Jennifer, played by Hope Olaide Wilson, an actress who has appeared in films such as After Earth and The Last Ship. Jennifer is 16 years old and takes care of her younger brothers Manny and Byron. She is smart, mature, and responsible beyond her years. She has a talent for singing and writing songs, which she inherited from her mother who died of a drug overdose.
Jennifer is the one who connects with April the most among the children. She understands April's pain and anger because she has gone through similar experiences. She also admires April's voice and wants to learn from her. She tries to protect her brothers from Randy's abuse and Madea's discipline. She also stands up to Randy when he tries to molest her.
Wilson gives an impressive performance as Jennifer, showing both her toughness and tenderness. She also sings beautifully in several scenes, such as when she sings "Oh Lord" with Mary J. Blige at the club, or when she sings "The Need to Be" with Gladys Knight at the wedding.
Madea: The Meddler
The comic relief of the film is Madea, played by Tyler Perry himself. Madea is a sassy and outspoken elderly woman who is not afraid to speak her mind or use violence if necessary. She is also Joe's sister and Brian's aunt. She first encounters April's nieces and nephews when they break into her house while looking for food. She decides to take them in and feed them, before bringing them to April's house. She also keeps an eye on them and intervenes whenever they are in trouble.
Madea is a hilarious and memorable character who provides many laughs throughout the film. She is known for her witty remarks, exaggerated expressions, and outrageous actions. She also has a heart of gold and cares deeply for the children. She teaches them valuable lessons about life, love, and family.
Perry does a remarkable job of playing Madea, as well as Joe and Brian. He brings his own style and humor to each role, making them distinct and entertaining.
Other Cast Members
The film also features other talented cast members who play supporting roles. Some of them are:
Brian White as Randy, April's boyfriend who is a married man, a drug dealer, and a cheater. He is abusive to April and the children, and tries to sabotage April's relationship with Sandino.
Mary J. Blige as Tanya, a singer who works at Club Indigo with April. She is April's friend and confidante, who encourages her to pursue her dreams and leave Randy.
Gladys Knight as Wilma, a singer who is a legend at Club Indigo. She is also Sandino's friend and mentor, who helps him adjust to his new life in America.
Marvin Winans as Pastor Brian, the pastor of the church where April's nieces and nephews attend. He is also Madea's nephew and Joe's son. He is a compassionate and wise man who offers guidance and support to April and the children.
Kwesi Boakye as Manny, Jennifer's 10-year-old brother who is smart and curious. He likes to read books and learn new things.
Frederick Siglar as Byron, Jennifer's 8-year-old brother who is quiet and shy. He likes to draw pictures and play with his toys.
Why You Should Watch I Can Do Bad All by Myself
I Can Do Bad All by Myself is a film that has something for everyone. It has comedy, drama, romance, and music. It has a compelling story that touches on themes such as family, forgiveness, faith, and redemption. It has a stellar cast that delivers outstanding performances and sings amazing songs. It has a message that inspires and uplifts the viewers.
If you are looking for a film that will make you laugh, cry, sing, and cheer, you should watch I Can Do Bad All by Myself. You can find it on DVD, Blu-ray, or streaming platforms.